Good things happen when you don't let small annoyances ruin your day. During an Ontario winter day those "small" annoyances include brutal cold, snow measured in feet instead of inches and air that makes your face hurt...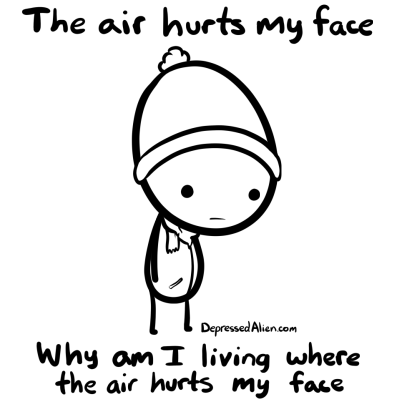 Because you love it here, that's why.
But if you battle through all that and make your way outside, good things happen. This is what I learned during a recent winter vacay with the family to the outskirts of Huntsville, Ontario. Our intention: jam as many classic Canadian winter activities as possible into a couple days.
Ontario's natural diversity seems to unfold anytime you cruise up Highway 400 and Highway 11. Wide stretches of fertile farmland blanketed with snow quickly give way to jagged, rocky terrain interspaced with countless lakes and rivers glassed over with ice. We watched as the accumulated snow piled on the road side quickly doubled, and then tripled as we passed Bracebridge, adding to the wildness of the land.
Our first stop was to check out Arrowhead Provincial Park just north of Huntsville. Arrowhead is one of few Ontario Parks that operates at any significant capacity during the winter, offering yurts and cabins for overnight winter adventures. We weren't staying overnight, but had come to experience the 1.3 km skating trail we had heard so much about. Despite a few weeks of varied weather conditions, the ice was near perfect as we towed my son's sleigh through the winding trail. The trail is a truly momentous accomplishment; a tribute to the Canadian love of winter. As we huddled around a campfire following our skate it was clear how much people appreciated the park's work maintaining the trail.
Before heading out we spotted Arrowhead's tubing hill and I simply had to take my one year-old son, Wesley, for his first downhill ride (after a test run by myself, of course). No chairlift here folks, but the walk back up the hill will help you stay warm!
We made our way south east to Cedar Grove Lodge where we would stay for a couple of nights. The resort features 19 cabins backing onto a cliff that overlooks Peninsula Lake. Each cabin is unique and features a wood burning fireplace. We picked the resort for the private cottages, and for the fact that everything is included with your stay, including meals, firewood, recreational activities and more.
The next day, after a fantastic breakfast, we borrowed snowshoes from the resort and trekked to the top of the cliff, no small feat while towing Wesley in his sleigh. From the top we could see across the lake to Hidden Valley Ski Club on the other side. Scooter, our seven year-old fur baby, was thrilled with the chance to crash through the snow. Cheers to Cedar Grove for being pet friendly!
After a two hour hike we were more than ready for lunch. The meals at Cedar Grove are nothing short of spectacular. They offer three or four options at each meal in addition to different appetizers and desserts. The food is pure home comfort food sourced locally whenever possible (including amazing bread from the local Windmill Bakery). Plus, the resort is BYOB, so you can bring your own wine or beer with you to their dining room. I went with a gut warming Blacksmith Smoked Porter from the local Highlander Brew Co. as my drink of choice for our stay.
We spent the afternoon touring the resort, checking out their games room and playing shuffleboard and ping pong. We check off another winter activity when we grabbed some hockey sticks and headed out to the resort's skating rink on the lake to shoot some pucks around.
After dinner we relaxed by our fireplace and played some board games. The cabins don't have TVs or WIFI which was an amazing change from our regular plugged-in lifestyle.
Before leaving the next day we asked the resort to pack us a lunch and went out to their toboggan hill to squeeze in one more winter activity.